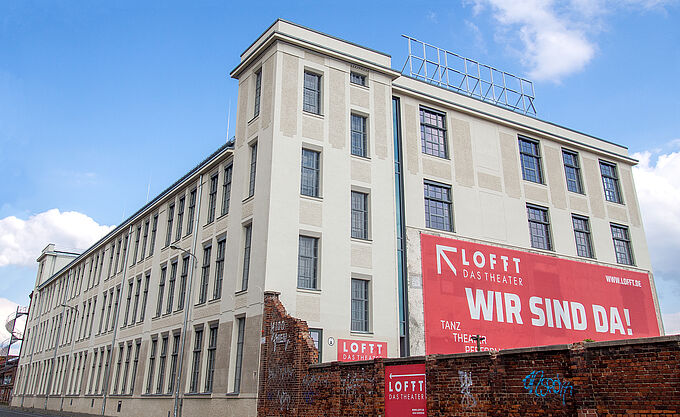 Independent production house and promoter in Leipzig
Since its foundation in 1997, LOFFT – DAS THEATER has stood for the promotion of the performing arts in Leipzig and Saxony, of young talent in the local area and for national and international productions in the field of dance, performance and theatre art. It is one of the most important venues for the independent performing arts in Saxony and has been located on the grounds of the Spinnerei Leipzig in Hall 7 since 2019.
The promotion and development of artists and their work are just as important to the LOFFT as the mediating presentation of important artistic positions. Our profile continues to develop organically in national and international contexts, strengthening relationships to Leipzig and Saxon cultural life along with its actors.
A multi-tiered newcomer programme supports new artists during their first experiments in the workshops, through the mentoring programme Impulse programme', and into the 'Artist Development Programme', which establishes and networks local artists nationally and internationally. Openly advertised co-productions, themed festivals and numerous co-operations lead to a programme of around 150 events a year, which are accompanied by an education programme. LOFFT - DAS THEATER is a non-profit organisation.
We are committed to the interests of independent performing artists in cultural policy at local, regional and national level, including in the State Association of Independent Theatres in Saxony, the Federal Association of Independent Performing Arts, and the associations 'Dachverband Tanz', and 'Kreatives Leipzig'. In addition, we organise open advisory services for artists, qualification workshops and work for our artists in a way comparable to a management agency.
The Spinnerei Leipzig, once the largest cotton mill in Europe, is now known as an international centre for contemporary visual arts. Galleries and exhibition spaces, countless studios and workshops form a "cosmos of art", which has been expanded by the diversity of the performing arts since the opening of LOFFT in March 2019.